Goal
Give the user control over the visual and auditory interface when visiting a website.
Do not surprise the user by unexpectedly playing audio content.
Improve the accessibility of content for people with disabilities.
Implementation
Do not create audio content which starts automatically and without explicit user action.
Do not include in the page elements triggering the playback of an uncontrollable sound for example with the audio html element with the autoplay attribute or without the controls attribute.
Control
In each page containing audio content:
Check that there is no audio content automatically activated when the page loads;
Check that there is no audio content activated in an unpredictable way following a user action.
Overview and background
The 240 Opquast rules are defined and agreed upon by an extensive community of web professionals and academics. These web quality assurance guidance rules started as a list of best practices 20 years ago. They have since been revised every five years and have been tried and tested via millions of web interactions by Opquast community's customers, including the leading CMS communities which have developed plugins for WordPress, Drupal and Prestashop. The most recent version, v4, was established in 2020.
Each rule has individual technical sheets and the rules can be searched by project phase or various topics: e-commerce, data-privacy, internationalization, security, code, etc, or by themes: accessibility, SEO, mobile, privacy, and ecodesign. The complete checklist is available on a creative commons license BY-SA.
To learn more about the Opquast approach, read this article published at Smashing Magazine
Broad application and benefits
The rules should be applied to your projects from the design phase through to post-implementation , and they should be understood by all professionals with web and customer experience (CX) responsibilities: from strategy to operations, marketers to project managers, and editorial to technical staff. The benefits of using this ruleset are numerous, including improving customer satisfaction, web performance, and e-commerce, and expanding your client base, while also decreasing your errors and costs.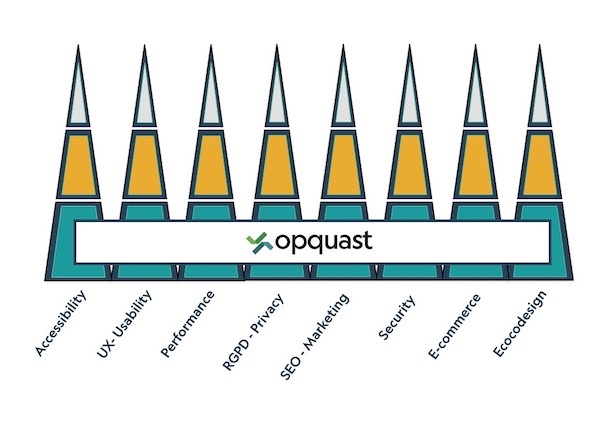 ---
Discover Opquast training and certification
The objective of these rules and the Opquast community mission is 'making the web better' for your customers and for everyone! Opquast rules cover the key major areas of risk that can negatively affect website users such as privacy, ecodesign, accessibility and security.
Opquast training has already allowed over 17,000 web professionals to have their skills certified. Train your teams, contact us
We offer a 1 hour free discovery module.